Stone Patio Achieved with Texture Stamps
For this backyard patio space, Brickform stamps were used to create the look of stone the homeowner desired for the surface.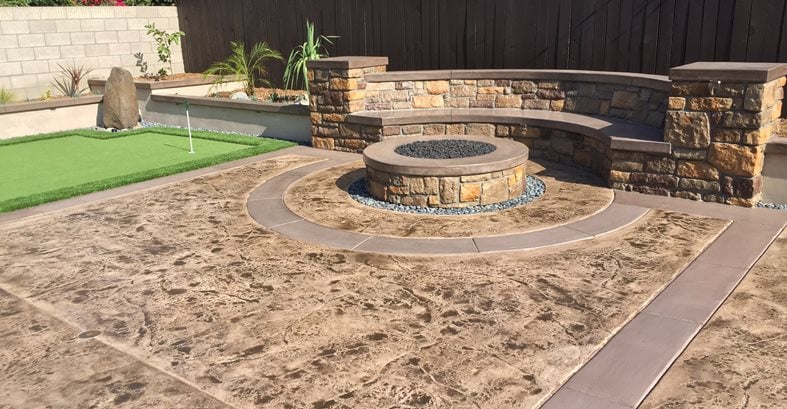 Many love the look of natural stone, but the price is often a deterrent. With high-quality texture stamps, though, a skilled contractor can create the look at a lower cost.
For this backyard in Costa Mesa, California, the homeowners wanted the look of natural stone for their patio. To mimic the look, contractor Kevin Brown of KB Concrete Staining in Eastvale, California, used a Brickform texturing stamp.
Brickform texturing stamps are used to imprint a texture onto newly poured concrete. Since they have feathered edges, they can be overlapped during the stamping process. The result is a continuous texture that doesn't create a seam.
To apply a texture stamp, a contractor places the stamp then uses a large pounder to imprint the pattern onto the concrete surface. Brickform suggests the following technique: place the first stamp with the second stamp overlapping it by about 20%. After using the pounder to imprint the pattern, lift the overlapped edges and place the second tool under the first tool, pounding again to reduce lines and get a better texture. Repeat this process over and over, rotating the stamp with one-quarter turn every time to create a more natural appearance.
For this project, Brown chose Brickform's Rough Stone Texture Skin. This is a natural stone texture characterized by a continuous coarse surface with several distinguishing veins.
The combination of this texturing technique with strategic staining made for a beautiful surface that achieved the look the homeowners desired.
See More