Stamped Concrete Patios Offer Beauty & Durability
Considering a stamped concrete patio? Get design ideas, and learn about the pros and cons.
Stamped concrete is one of the most popular types of decorative concrete. It allows homeowners and business owners to add creative, artistic designs to their surfaces, resulting in unique patterns underfoot. Homeowners commonly use stamped concrete on outdoor patios to create a stylish space for gathering and entertaining family and friends.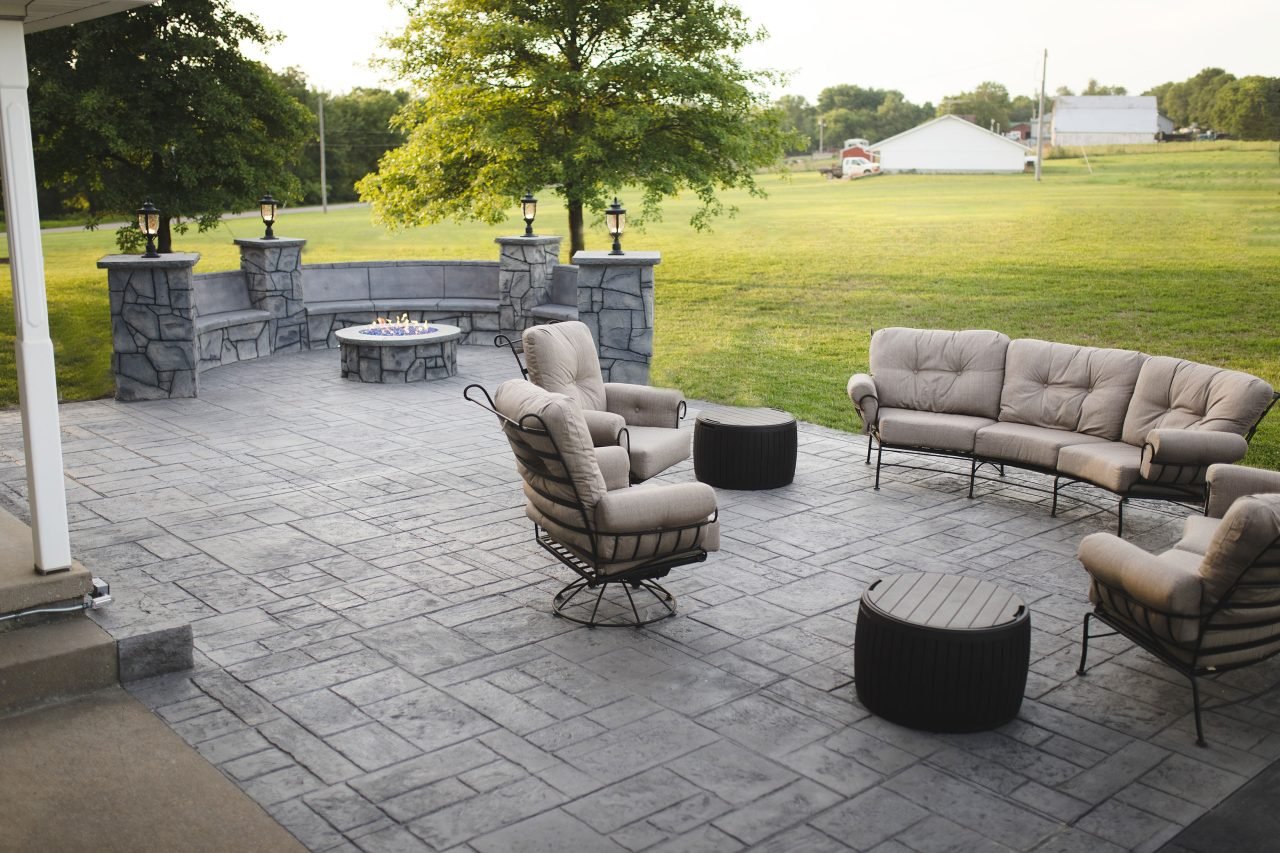 If you're considering a stamped concrete patio for your outdoor living space, here are some inspiring design ideas. We also provide answers to some of the most commonly asked questions about stamped concrete.
Stamped concrete patio design ideas
The great thing about stamped concrete is that it offers many options for design styles. Whether you want an Old-World look or something more modern, you can make it happen with stamped concrete. Here are some inspiring stamped concrete patio ideas.
What is stamped concrete?
Stamped concrete is a decorative option in which the surface is imprinted with pattern and texture. You can get your concrete stamped to mimic the look of other materials such as brick, wood, or natural stone. But you can also opt for something more artistic such as a medallion or a border with imprinted leaves. Stamped concrete is not limited to one style—it can be customized to fit many different tastes.
What are the pros and cons of stamped concrete?
Stamped concrete pros:
Customizable: You can choose from a variety of designs to get the stamped concrete pattern and texture of your choice. Color can also be added to further customize your patio.
Cost-effective: Typically, stamped concrete is less expensive than paying for the materials and labor required for laying pavers, bricks or flagstone. Your total stamped concrete patio cost depends on the local price of concrete, the square footage of your project, the type of design you want, and more.
Durable: Concrete is one of the most durable patio materials available. When compared with pavers, its longevity is far superior. Avoid problems associated with other options such as bricks that get jolted out of place, or a wood deck that gets damaged by water or termites.
Stamped concrete cons:
Potential for cracking: Just like a plain slab of concrete, decorative concrete also has the potential to crack. Fortunately, hairline cracks on stamped concrete surfaces are just as easy to repair as those on a plain concrete slab. It is important to address them so they don't turn into something worse. Concrete that's poured properly has less of a chance of experiencing significant cracking.
Slippery if not properly treated: You might hear that stamped concrete is slippery. However, it isn't really the concrete that's slippery, but the sealer. Luckily, you can take measures to make the surface slip resistant. Texture, anti-slip additives, and non-film-forming sealers are solutions for slippery concrete surfaces.
Needs sealer: After investing in your stamped concrete patio, you will want to seal it. Sealing protects it from damage and general wear and tear. Don't forget to reseal your patio every few years depending on use and exposure.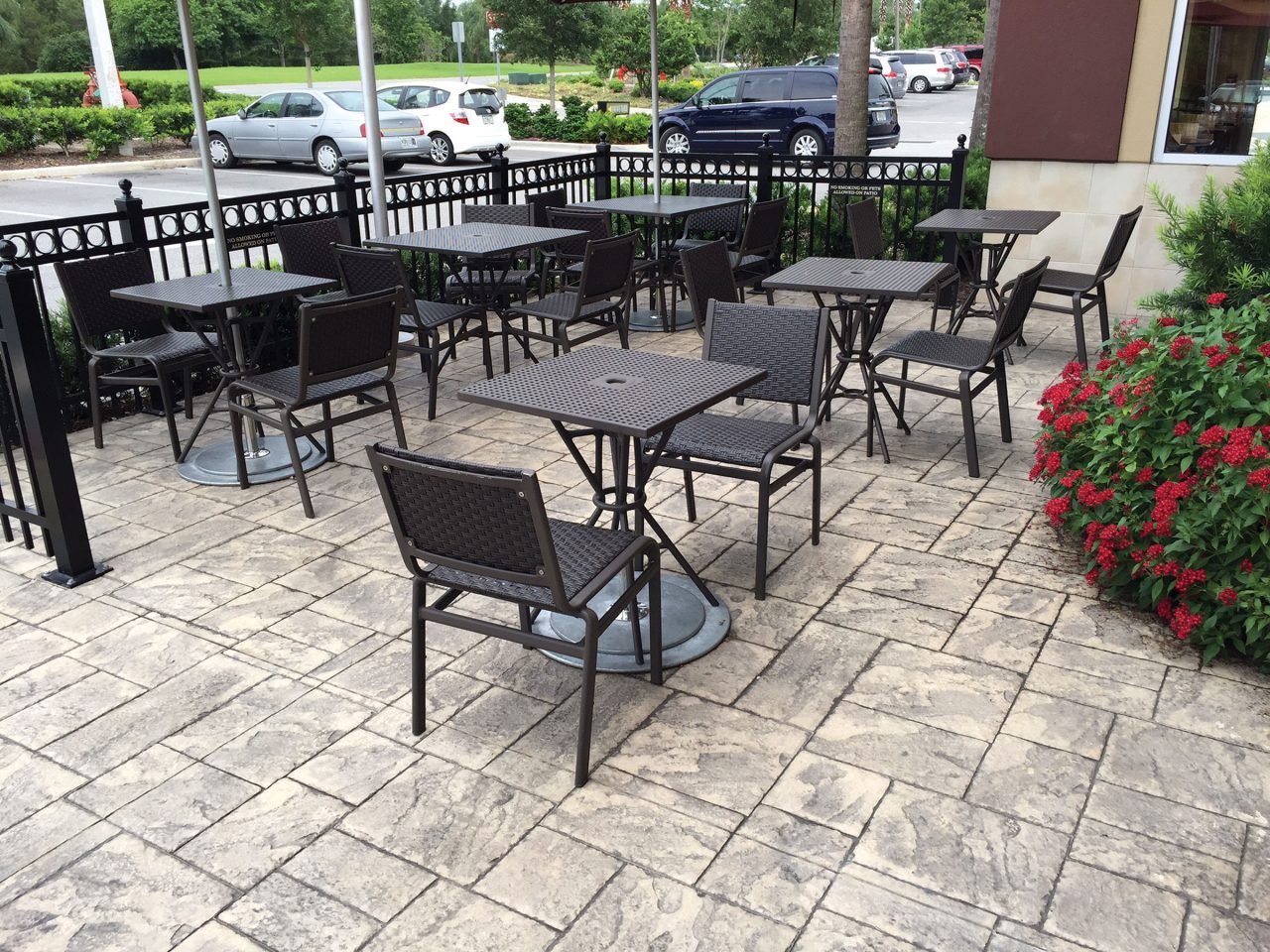 Patterns & Colors for Your Stamped Concrete Patio
What are the best stamp patterns for a patio?
Brickform offers over 175 stamp patterns and textures each with a high level of detail and accuracy. Whether you just want texture or a specific pattern, you'll find what you need to create a beautiful stamped patio.
Here are a few popular stamp patterns for patios: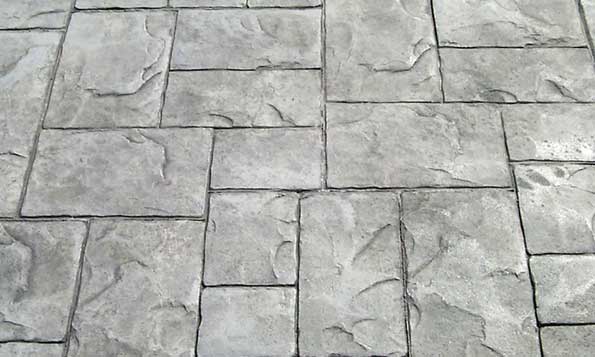 What is the best color for a stamped concrete patio?
There is no one best color for a stamped concrete patio. It will depend on the exterior of the home or other nearby structures. Many people prefer neutral colors that go with anything. Others prefer colors that are vibrant and eye-catching.
Learn more about choosing colors for your stamped concrete project.
Frequently Asked Questions
Can you stamp concrete over an existing patio?
Yes, if you already have a concrete slab, you can put stamped concrete right on top. To do this, you'd use a stamped concrete overlay such as Brickform's Stampable Overlay product.
Stamped concrete overlays are applied directly on top of existing concrete surfaces. This means you don't have to tear out your old patio! Learn more about stamping existing concrete.
How do you clean a stamped concrete patio?
Decorative concrete isn't overly difficult to clean. However, it does require some routine maintenance to keep it looking great long-term. If you host gatherings often on your patio and/or you have any food or drink spills you'll need to be more proactive.
For general cleaning, we recommend the following:
Sweep or blow off. First, use a leaf blower or push broom to get rid of loose dirt and debris.
Spray. Use a high-pressure garden hose or pressure washer to spray off the surface. This step will prevent grime from forming.
Scrub. With the surface still wet, use a push broom or scrub brush to loosen stubborn dirt and grime. During this step, you can also use Neutra Clean or E-Etch.
Rinse. If you use a cleaner, make sure to wash it all off your patio to avoid residue sitting on your surface.
The best way you can protect your stamped concrete patio is to have it sealed. A good sealer also makes cleaning the surface easier. Get tips for sealing stamped concrete.
Are stamped concrete patios slippery?
All concrete, including stamped patios, can be slippery when sealed. To avoid a slippery surface, you can include anti-slip additives, like Traction Grip, in your sealer or choose a non-film-forming sealer, like Stealth-Seal. This will ensure your patio has traction and prevent it from getting slick when wet.
Do stamped concrete patios crack?
A stamped concrete patio is no more likely to crack than any plain or decorative concrete patio. Concrete can crack for many reasons. A good concrete contractor will take all needed precautions to ensure the concrete surface is strong and sound.
These things can be done during installation to limit cracking:
Use a good mix with added fiber like Ultra-M1x
Get the ratio of concrete mix and water right
Use a finishing aid like DAY1
Install adequate control joints
Ensure concrete doesn't cure too quickly
Does a stamped concrete patio add value to your home?
A well-done stamped concrete patio can increase your home's resale value. If your home has a patio with beautiful, well-maintained stamped concrete, this will appeal to potential buyers. For business owners, a gorgeous stamped concrete patio where customers can dine or socialize is also an attractive feature.
How long does a stamped concrete patio last?
Stamped concrete patios are very durable. With proper maintenance and resealing, they can last a lifetime.
See More